I have been working on a lengthy project in our basement, which is our children's playroom.  It's been quite a while since we set up for early learning, then preschool and kindergarten, while my son already outgrew a lot of stuff, including games, toys and furniture. This summer, I decided to take on a complete overhaul and update the basement. I've finally updated our basement for elementary ages.
This is one of the before pictures that I've taken in March this year. The Lego table on the left and arts&crafts table on the right were quite small for the kids, especially my son. The LEGO storage idea, I shared in this Organizing LEGOs post wasn't working anymore. Table wasn't big enough.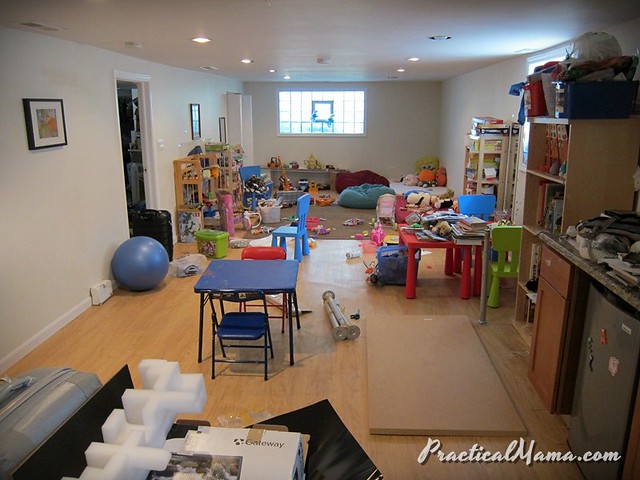 This is the before picture taken right after we came back from a month-long summer vacation. I separated the items to be sold on craigslist. I was continuously brainstorming about solutions to our various issues.

This was the mess that never got cleaned up. My son's Hero Factory LEGOs were stacked at the top of each other. Lego box was filled hastily right before the cleaning day. Some toys weren't age appropriate for the kids anymore.

Kids grew out of the IKEA Mammut arts & crafts tables.

We started with a new LEGO station. I got this large IKEA Linmonn table from craigslist. My son assembled it.

Work in progress. I sold some items on craigslist, some went on freecycle.org. I got IKEA EXPEDIT shelving unit with attached table for arts & crafts table. Moved some of the old shelves around.

Lego table is semi-ready but open for business. Some DIY projects were needed to enhance this workplace. I put the shelves (previously purchased on craigslist) on the sides for them to put their finished works to display. Their LEGO creations always floated around in some corner, until someone stepped on it or broke while moving. Now they can put them in display and break them apart whenever they want.

After organizing all the shelves and separating the unneeded toys, it looked much cleaner and still has ample space for the kids to run around. The top of the counter on the right hand side (not in the picture on purpose) was stacked with all the small stuff, that needed to go somewhere else.

This IKEA EXPEDIT shelving unit was a lifesaver. I organized everything from papers, coloring materials, craft materials, board games, puzzles, play dough to science kits in separate cubes. It also serves as a display shelf for all the robots my son made in his robots class and all the car he made for the downhill derby.  Can you tell we got a label maker? My son claimed it. Nevertheless, stuff is within children's reach and organized.

This is a built-in closet that we put-in shelves for toys. More toys. Pretend play and blocks.

More toys on the old shelves (I had purchased these from craigslist as well).

My son's trucks that he cannot give up. Blue bin contains a wooden train set.

Kitchen corner.

Reading corner and bean bag chairs I'd sewn.

Final touch ups: We got 4 IKEA ADDE chairs. My daughter wanted to keep the foam numbers to play hopscotch.
Kids helped me a lot in assembly and setting up. They love their new place. Unfortunately, they don't have a lot of time to spend here with school, homework, extra-curricular activities and social engagements. It's quite easy to organize and clean-up, both for the kids and me. I use the empty are to workout to my DVDs. I still have some toys and stuff to sell on craigslist and clean the counter top. Hopefully, I'm done for the next 5 years.
Made some practical additions to the LEGO station, for a new idea to store LEO pieces, which I'll share tomorrow in detail.